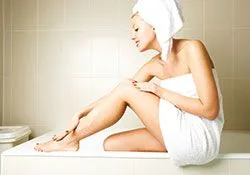 Lasers are medical devices that produce high-energy, focused beams of intense, "single-colored" light and heat. These laser treatments have been found to selectively interact, in very useful ways, upon various tissues within the skin and body. Today there is an array of laser treatments available for cosmetic treatments. Some laser treatments in Issaquah include hair reduction, skin resurfacing for wrinkle reduction and/or treatment of acne scars, removal of pigmented blemishes, and treatment of vascular lesions.
At Narra Dermatology and Aesthetics, we continue to be Issaquah's only dedicated dermatology based practice that specializes in cosmetic laser treatments. Our patients visit us to achieve a result, which is accomplished through various laser treatments currently available in our office. Whether you are searching for hair removal or skin resurfacing, we have laser treatments available to meet your individual needs.
Laser treatment is a safe, effective option for many of your beauty needs. Contact our office at (425) 677-8867 to schedule a consultation with a member of our staff.
For more information on Laser Treatment in the Issaquah, WA area call Narra Dermatology and Aesthetics
at (425) 677-8867 today!